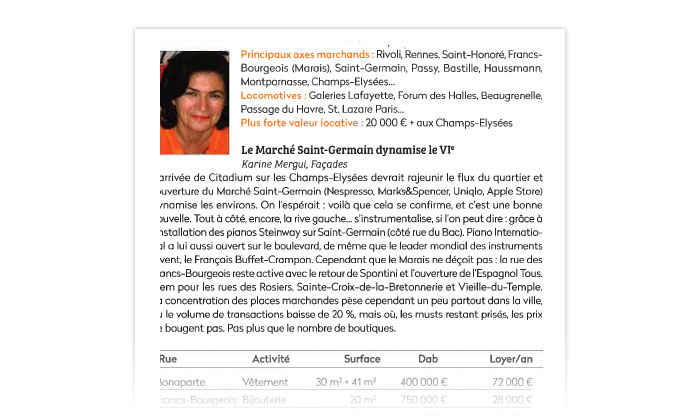 Sites Commerciaux N° 268 (05/17)
By contact@astraville.com In Presse On September 15, 2017
---
The Saint-Germain Market boosts the VIth.
The arrival of Citadium on the Champs-Elysées should renew the neighbourhoods flux and the opening of the Saint-Germain Market (Nespresso, Marks&Spencer, Uniqlo, Apple Store) stimulates the surroundings. We hoped for this, and the good news is that it has been confirmed. On the side, again, the left bank is… instrumentalizing, if we could say it like that : thanks to the implantation of Steinway pianos in Saint-Germain (next to rue du Bac).
Piano International also opened on the boulevard, the same goes for the world leader in wind instruments, the french Buffet-Crampon. Meanwhile le Marais does not disappoint either : the rue des Francs-Bourgeois stays active after the arrival of Spontini and the opening of the Spannish Tous. The same goes for rues des Rosiers, Sainte-Croix-de-la-Bretonnerie and Vieille-du-Temple.
The concentration of market places weighs a little all over town, there where transactions go down by 20%. But where the musts stay popular, prices are stable. Not more than the number of shops.
---